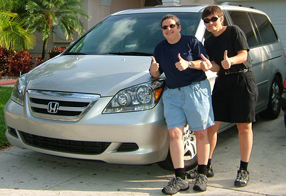 The car is packed, and we're on the road by 10am.  We're headed to Shepherdstown, WV, to meet up with our friend Amy Floren, and attend the WV BECOMING AN OUTDOORS WOMAN weekend.  When we took ROADTRIP 2000 in our Eurovan, one of our last stops was Charleston WV to visit with Amy, so it's only fitting that this trip begin with another Amy adventure.
The last few nights have been spent packing instead of sleeping, so we take turns driving and napping. Day one is uneventful, and we stop at a Microtel in Florence SC.  Nothing special, but it's near the highway and cheap.
Thursday April 14
We're up early, and on the road.  Driving along I-95 in Roanoke Rapids NC we spot a giant STARBUCKS sign in the sky.  We pull off for a quick lunch at Ralph's BBQ, a place we've been before, then head over to Starbucks for some coffee and photos. At this point, Caryn says her trip is complete.  Mary, on the other hand, is not so easily satiated. Not only did they put an extra shot in Caryn's coffee, but also when she questions it, for titration purposes, they give her a free drink coupon. Caryn says she could "Stay here all day and shoot this sign". Mary is not amused, and urges Caryn onward.  We stop in Richmond VA at the Panera Bread for some quick WIFI access, then on the road again.  Around 5 pm we stop at a rest area outside Winchester VA to stretch our legs, and plan our next move.  We check into the Travelodge in Winchester VA, and settle in to watch the Apprentice.
Friday April 15 
Up early again, and headed to Shepherdstown, WV.  As Mary enters the stairwell, she is struck by the sweet smell of breakfast.  Upon closer inspection, she discovers a DIY Belgium waffle station in the breakfast area- a first for us, and almost as exciting as the bathing suit wringing machine at the Norwich Inn Spa in CT. 
After sharing a waffle, the girls are back in the car, headed to the National Conservation Training Center (NCTC) site of the BOW weekend.  We arrive at 10:30am, and are very impressed with the private room accommodations, and the overall beauty of the campus.  Last fall we did our first BOW weekend in upstate NY, where we shared a bunkhouse with 10 women, and the meals were very unimpressive.  Things are looking up!  We unpack, then head over to the get acquainted meeting, followed by lunch.  Amy arrives from her grueling 5-hour early morning drive from Charleston in time for a quick lunch, including chocolate covered strawberries, before we head over to board the van to our first class – Firearm Safety.
At this point I should mention that BOW offers an array of classes – Archery, Wilderness Survival, Overnight Backpacking, and Dutch Oven Cooking, to name a few.  After sending in our registration and class choices, we were contacted by WV BOW, with the news that we had the option of participating in an "All Shotgun" weekend.  We jumped at the chance, since this isn't an opportunity that comes along often.  I should also mention that Mary has had some gun experience as a youngster, when her dad taught her to shoot at stationary targets, but lets face it, it's been almost 30 years since she's fired a gun.  Caryn and Amy have no shooting experience, at least none that they're willing to admit to!
We meet up with our instructors Carol Stewart and Al Means (skeet shooting champ from WV) as well as our classmates.  We board the bus for the ride to the LEE COUNTY GUN CLUB, the site of our first three classes.  Determined to leave WV in a few days with all body parts intact, we try to follow along, even though our instructor Carol would have benefited from an outline, or some notes.  We learn safe gun handling techniques, and some information regarding shotgun gauges and ammo.  It's soon 5 pm, and it's back in the van for the ride back to NCTC, and a great dinner.
After dinner, we attend the evening program on Falconry, which is quite interesting, if not somewhat gruesome in its specifics.  After the lecture it's early to bed, to rest up for a full day of shooting.
Saturday April 16
We're up early for a hearty breakfast, then head over to the van, so we can jockey for a position that doesn't involve too much contortion.  (They grow them big here in WV!)
We arrive at the gun club, and get outfitted with shooting glasses, earplugs and guns, based on body type and arm length.  Mary is issued a Winchester 100 12 gauge sleeved to 20 gauge, over and under which Al calls "a real sweetheart of a gun".  She is privileged to have this gun to herself, since the other classmates are either smaller, or considerably larger than she.  Amy is using a Beretta Semi Automatic 20 gauge; while Caryn is using a shotgun with pump action.  It is determined that although she's right handed, Caryn is left eye dominant, which she considers a considerable handicap.  Al places a smudge of chapstick on her shooting glasses, to encourage her to watch the targets with her right eye.  Mary also gets a smudge, because she's having trouble sighting with both eyes open. We're taught that in shotgun shooting, "Where you look is where you shoot".  Also, it's important to keep both eyes open, in order to maintain your peripheral vision.
After learning proper gun mounting technique, and practicing on some still targets, we break into two groups, and begin to learn the basics of skeet shooting. Amy was in Al's group, while Mary and Caryn were in a group lead by Bill, skeet-shooting champ for the state of Maryland.  Within an hour we were breaking targets in the air! 
Soon it was noon, and it was back to the van, for the dreaded drive to lunch, back at NCTC.  It's really hard to say what was the worst part of these van drives, the overwhelming perfume we were subjected to, or trying not to react when we heard the stories our class mates where telling each other in the van One of Mary's favorite stories was the one about the woman who put up a fence in her back yard to keep her cats in, but they just climbed over it.  Another fav was the one about the boyfriend, who  "starts acting funny" every time they discuss the engagement.
It doesn't take long to figure out why some of these gals are here on their own, without buddies.
After dinner, Mary and Amy head over "S'mores and Song" hoping that participation isn't required, while Caryn stays behind to take advantage of the free laundry facilities, equipped with high tech liquid laundry soap.  Amy wins a Fire Survival Kit (batteries included) during the door prize giveaway, and Mary secures a "HUNT WV" coffee mug. After a PowerPoint recap of the weekend, Amy and Mary head for the door, because they're just not feeling up to singing. 
We're off to bed early, in anticipation of Sunday mornings trip to the Sporting Clays Range.
Sunday April 17
We get up early, and pack up.  After loading up the car, we head to the Commons for one last breakfast buffet.  On the walk over, the steam rising off a pond distracts Caryn and Mary, and they linger to photograph the birds landing on the swamp grass.  Mary heads over to meet Amy at breakfast, while Caryn stays behind at the pond.  We all manage to have breakfast, and board the van for the drive to HANCOCKS R and R, a sporting clay range over the state line in Sharpsburg, MD, run by Paul Hancock, who can only be described as a crotchety, yet entertaining 79 year old.
We again broke into two groups, this time Amy and Mary were with Al and Paul, while Caryn went off with Carol, and the other shooters.  The format of the course provided each shooter with 6 shots at each station, ranging from "Rabbits" – clay pigeons launched along the ground at high speed, to targets flying either away from or toward you, reporting pairs – a pair of "birds" the second one being launched 3 seconds after you fire at the first.  The most challenging were the "teals" which Paul launched in a spot that required you to look directly into the sun, spot the black side of the target.  To her amazement, Mary hit 3 out of 5 of these targets, after declaring that they were close to impossible to hit. 
It was a fun morning, even though Paul's crotchety-ness unnerved us on some of the stations.  Another highlight was Al grabbing Amy by the back belt loop, thereby forcing her into the proper shooting stance.  She complied, without so much as a "Don't touch me!"
Back at the parking lot, Mary was awarded the "Clay Pigeon Pin" in honor of her high score of 23 out of 50 targets.  (Caryn wants to point out that Mary beat two women who brought their own shotguns.  In fairness, Mary wants to point out that both these women were left handed, which pretty much necessitates that they own their own gun.) At the final tally, Caryn had 9 hits, and Amy finished up with a respectable 8, including a very solid double, on the second to last round.  It should be noted that the scorer on Amy and Mary's team was a bit lame, and there is a distinct possibity that Amy in fact tied with Caryn.
After returning to the NCTC, we got in our cars, and headed to downtown Shepherdstown, where Amy treated us to brunch at the Yellow Brick Bank, as great cafe that she had visited before, while in Shepherdstown working on the James Rumsey bridge replacement, (a fact that Amy was able to keep concealed during the BOW weekend, despite Caryn's threats to "out" her as an engineer). After lunch, Amy donned her safety vest and hard hat, and we walked out on the old bridge, to have a closer look and photograph the new Rumsey bridge, which was designed by Michael Baker Corporation, the engineering firm Amy works for.  Mary and Amy went down below the bridge to check out her girders.  Impressive!  Too soon the time came to say goodbye, and Amy was on her way back to Charleston, and we were on our way to the outlet mall in Hagerstown, MD.